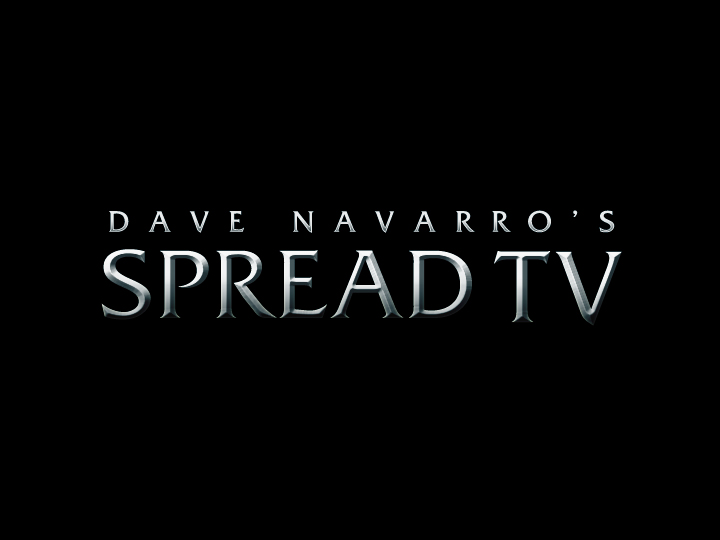 Following a live appearance on Tom Green's maniaTV show, rock star Dave Navarro (Jane's Addiction, Red Hot Chili Peppers) pitched a idea for his own show, inspired by childhood memories of watching Hugh Hefner host Playboy After Dark live from the Sunset Strip.
Spread TV was a free-ranging live talk show, enhanced by live musical performances and pre-taped weekly peeks into the Hollywood lives of Dave and his co-host/best friend, television writer Todd Newman. 
Production began in 2007 for a year of weekly 60-minute live shoots at Hollywood's Dragonfly nightclub with featured guests including Edward James Olmos, Margaret Cho, Shepherd Fairey, Emmy Rossum, Gene Simmons, Gina Gershon, Andy Dick, Dita von Teese, Mark Mahoney, Tera Patrick and, eventually Mr. Hugh Hefner himself.
With the 2008 opening of maniaTV's own 6,000 square foot soundstage in Los Angeles, the show built its own set, added a separate performance stage (sponsored by Gibson and Wrigleys) and welcomed established musical stars like Moby, Beck, Dave Mustaine and Al Jourgensen to the show alongside emerging artists like Datarock, Pigeon John, Steel Panther and The Dollyrots. 
In all, more than 70 episodes were created across 4 seasons and the show regularly attracted more than 100,000 weekly viewers – huge numbers in the infancy of internet television.
Spread TV was nominated for a TV Guide award for Best Internet Talk Show in 2007.